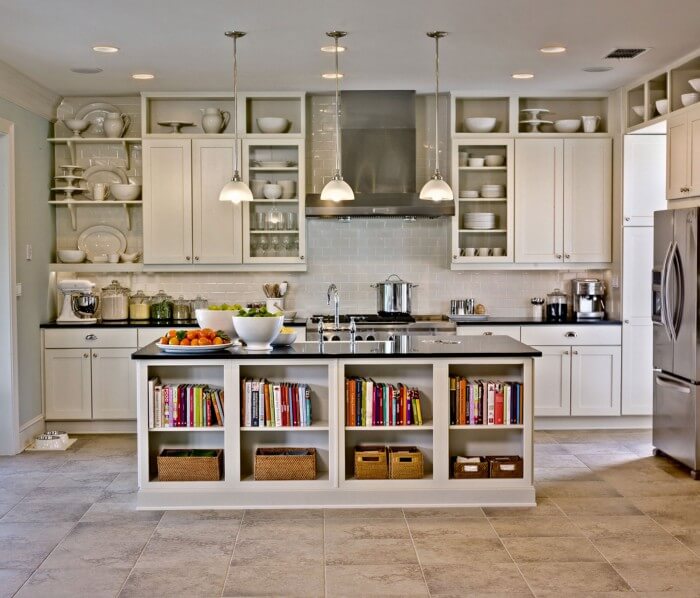 You can combine different hues to give different effects and match it all up with some beautiful accessories to set a theme for your kitchen. Generally, kitchen cabinets take up the most of the kitchen, which is why selecting an eye-catching color combination is vital. Let us take a look at some unique color work that can give your kitchen an entirely new look
BENEFITS:
This is a project that you can easily do yourself in whatever way you feel right.
Breaking down your shelves in order to renovate involves not only cost but also time and the mess involved is unimaginable. This will definitely require skilled workers as well, which will automatically add to the cost.
If your cabinetry is in a good condition, painting is always a better option to enhance the look and feel. Rebuilding shelves that aren't broken or unhinged is a waste of resources and energy when your intention is sole of giving your kitchen a makeover. This can very nicely be done by painting it.
The innumerable options available with colors and blends allow you to explore a wide range of combinations to suit your like and style. In addition to simple paint, you can choose designs and simple DIY textures that will give your cabinets an extra chic look.
IDEAS:
GREEN JUNGLE
Go for hues of green. You can opt for green tiles or greenish stone for wall and pastel green color for your cabinets. Leave the wooden shelves as they are. Cabinet hardware can be a mix of darker shades of green. You can optionally remove the hardware altogether for an added affect. Add some plants and leaves to the counter and windows, and you have made yourself a lush green jungle!
MATT GREY
Serene shades of grey from its lightest to darker variants can do wonders for your spacious kitchens. Go all grey with cabinets, tiles, and walls. You can choose to throw in white highlights if you feel like. This is more suited to minimalist kitchens, mostly in urban homes. You could also opt to paint a couple of drawers in a glossier shade of grey to improve the sleekness of your cabinets.
GLOSSY BLACK – INCLUDING ELECTRICALS
The royal black color transforms your kitchen into a dark heaven of solitude. Add in some lacquer and it is one of the best kitchens you can have! You can opt to have your electricals and essentials done in black as well, to create a space where you will enjoy cooking in isolation.
CALM PAPER BLUE WITH DEEP SEA BLUE
Somewhat similar to a sky and ocean theme, light and dark shades of blue give your cabinets a lovely bright aura that can never be dull. Try combining two different hues of the same color for your kitchen cabinets and you are sure to create something wonderful.
WHITEWASHED
An evergreen choice with both the urban and the country population, white cabinets along with white walls and floor rule the charts when it comes to painting your kitchen. The color of peace adds a sense of tranquillity to your space, for you to cook in a calm environment. Opting for sleek tiled floors and white ceilings can make your room look magical. White and pearl-white shades together will also be a different combination to try out on your cabinetry. Instead of plain white, you can also think of giving a wooden touch to the tiles and floors for a slightly different effect.
PASTEL PINK WITH MATCHING COUNTERTOPS
Try this unique blend of light pink with pink Italian marble countertops to have a bright, cheerful space. The lighter the shade you choose, the brighter your cabinets look and this increases the brightness quotient of your kitchen.
MAROON AND PASTEL GREEN
A very festive blend of colors, this can turn out to be gaudy, if not designed and painted tastefully. Though you can opt to paint your cabinets with a combination of these two shades, you can leave certain woodwork as it is, to enhance the warmth of the place. Additionally, you can also think of doing up your floor in wooden tiles or plain wood for some extra charm.
BLACK AND RED
A stark contrast to each other, these two colors will go very well with each other. You can choose to paint half the cabinetry black, and the remaining half, red. You can also use them each on the top and bottom cabinets for a half-half effect. Painting the cabinets in an alternative manner using these combinations might not be a good idea since your kitchen will look striped and lesser attractive with these dark hues.
WHITE AND ORANGE
Any color can be chosen to be coupled with white to add a dual blend to your cabinet. Orange, being a bright shade, will enhance the beauty of both colors. It is vital that you select the right shade of orange, or else the combination might compromise the brightness, and the kitchen can end up looking duller than expected.
LIGHT AND BRIGHT YELLOW
Vibrant and bright colors are an excellent way to induce highlights in your cabinetry. For example, when using two colors of the same shade, being of the same parent color, such combinations will not make your kitchen look bad or gaudy, however, you pattern the paint on the cabinets.
This is just the tip of the iceberg! There are many varied combinations that one can try to jazz up your kitchen cabinets and liven up your space. Easy to take up and light in your pocket, this is one project everyone should try taking up and enjoying.