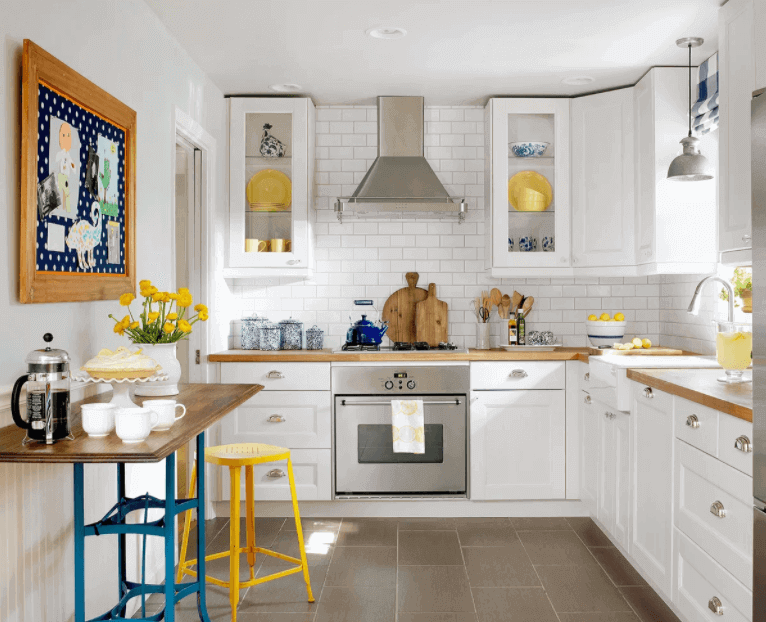 Use some creative options and smart design ideas to make your kitchen look larger than its real size:
CONSIDER SHALLOW CABINETS
Not each of your lower cabinets has to maintain the standard size of 24-inch depth. There are few cabinet lines such as stock cabinets, from big box stores, that comes in a 12 or 15-inch intensity commonly used for upper cabinets.
Using slender lower cabinets in one area has better advantages. It adds more floor space, which can help make a huge transformation in a tight kitchen. It also trims down your storage a bit, but often reaching to the deep back of the cabinets is hard. Hence, the shallow cabinets would fit just perfect for everyday uses and essentials.
REDUCE YOUR HARDWARE
It is very important to keep a kitchen mess-free to make it look more open and breezy. But you can further improve it by reducing the kitchen cabinet hardware.Cabinet doors having installed touch-activated locks or incorporated reach-in pulls strengthen the clean lines of kitchen, which cleverly enhance it look bigger. It also saves you from bumping into things as there will be fewer little items only. No such chance of your clothes to get caught in things, so you can easily move around in the space too.
PAINT IT WHITE
White is kitchen's best friend. It provides a better reflection of light more than any color, enhances the perception of space and makes the walls look farther away. From white kitchen cabinets to put white on the wall, countertops and the ceiling will create a seamless space without any edges. Use varieties of white shades, and contrast with different textures to create an all-white room. Recessed-panel cabinets with crown molding create slight shadows that add extra impression too.
INSTALL CABINET LIGHTING
installing good lights has been most important, and in kitchens, specifically, the lighting remains low, coming from the ceiling fixtures to the center of the kitchen. Providing lights inside, under, and even above the cabinets will make the space lot brighter and appear bigger. When lights are low and insufficient in the room the dark shadows around the cabinets might visually diminish the space. To get some quick improvement, install plug-in LED strips under the cabinets for further brightness.
USE PANEL APPLIANCES
Panel-ready appliances such as dishwashers and fridges are commonly designed to receive a door front of your selection to be able to combine with the appearance of your kitchen cabinets. The ensuing look is more elegant and creates a complete larger, airier look. Though such upgrade is pretty expensive, it definitely provides a sophisticated, lavishing look.
ADD GLASS DOOR CABINETS
Another great way to make your kitchen look larger is to replace the solid cabinet door with glass front shaker doors. Glass fronts ease the appearance of cabinetry and let the eye to travel through to the inside depth, which helps the walls seem more recede. This idea is becoming more effective if the things inside the cabinets are placed orderly and color-coordinated. Use this type of cabinet to showcase attractive drink-ware, also, you can use frosted glass to get a soft peek at the jumble of stored items inside.
PAINT WALLS A LIGHT COLOR
While thinking about kitchen paint colors choose whitish or rather grey for painting all over the kitchen and contrast with the floor tiles of the dining area. It freshens up the look of the kitchen and keeps it updated. This is very useful for those homeowners are in need of some cottage-ish feel. It's pretty neutral, which is great for any kind of house design.
PAINT CABINETS THE SAME COLOR AS THE WALLS
Painting the cabinetry and the wall color to a single shade removes visual boundaries. Also, because the pale colors reflect light better, it is the best to use for making space look larger, and that's absolutely a reliable approach. But there is no reason to worry about painting the walls dark. Deep tones such as black, chocolate and charcoal give expansive feel visually and create an impression which feels like the walls are at farther back.
OPEN SHELVING
Open shelves trim down visual influence and create an illusion of a more recede space. When interested in an even shinier look, opt for floating shelves over models those come with brackets.
RECESS STORAGE
Approaching to include a cupboard, shelves or cabinets evenly with the wall will keep from blocking the course of the kitchen. It's quite easy to retrofit a recessed shelve, especially if you fix it between wall studs. These niche shelves — slighted and finished to suit the woodwork – match with the architecture. Countertops though mostly remain crowded with appliances, but mess clearing can help to make spaces feel larger. An appliance garage in kitchen corner will be useful and you might then regain lost storage space. The cabinet contains toasters, coffeemakers, and few small appliances so that it is easily accessible while preparing food. No matter if you have insufficient space in the kitchen as you can still look for a spot nearest to your kitchen, such as a breakfast hallway, to install these shelves.
CLUTTER-LESS
Organised kitchens look better and bigger, so clean and tidy counters will be a most efficient way. Store the all-important essential in cabinets or rather if you only keep few daily necessities and pack the others someplace else. Removing clutters also means keeping updated, so be prepared to lose the excessively attractive details and collectibles. Try keeping handles and cabinet pulls sleek and slim and focus on horizontal and minimalistic look mostly. In case of arranging kitchen furniture, you can place tables and stools in a way that they don't obstruct walkways – the passageway between the cooking space and the fridge should always be clear.
Hopefully, all the above ideas will help you make your kitchen look larger. Since the kitchen is one of the most important spaces in your home, where you make food several times a day, it needs to be organized. So these ideas will surely not only impact in a bigger kitchen but also a clean and tidy kitchen of your dreams.