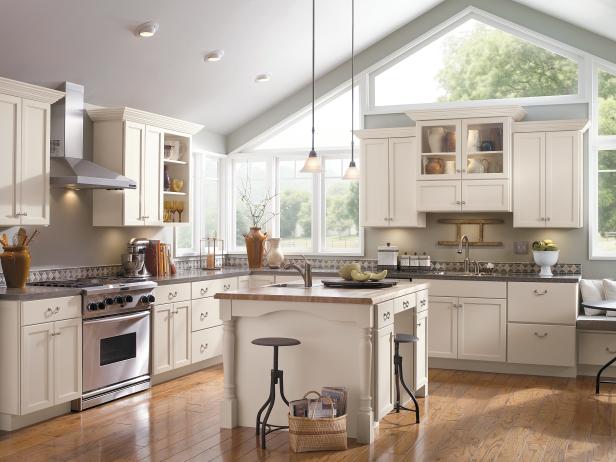 Determining to go by a specific cabinet style and design is characterized by so many factors. From the cabinet's price to the availability, you need to have an idea of what to go for. In today's world, houses are constructed on a daily basis with modern kitchen spaces and others with the rustic kitchen spaces. The only skeptical task encountered is determining what type of kitchen cabinets should be installed in the home.
Cheap kitchen cabinets are what most people prefer at home. It is not a wrong choice altogether, but you should also consider the amount of time you intend the cabinets to serve you. Most of the cheap cabinets need replacement after a while. Durable and robust kitchen cabinets will serve you longer and better.
TYPES OF STYLES AVAILABLE IN THE MARKET
There are many different styles and designs available on the market. Determining what to go for should be done with careful precision and consideration. Old-fashioned designs are considered elegant and straightforward whereas modern designs are considered stylish and exclusive.
Open kitchen styles have gained popularity in houses located in the city. For these homes, the kitchen cabinets are usually running along the kitchen walls allowing simple movements inside the kitchen. You will find cabinets located higher from the ground level allowing you to keep your cookware safe and concealed.
OLD-FASHIONED VS. MODERN STYLE CABINETS. WHAT SHOULD YOU CHOOSE?
Modernly designed cabinets allow you to have a wide variety of door sizes installed at specific points along the cabinet walls. You can have cabinets surrounding the two opposite sides of your cooker without any interference. However, introducing these designs require professional craft and are relatively costly as compared to traditional models.
Old-fashioned designs are quite simple but serve you efficiently. Characterized by regular sized drawers and racks, all your utensils and utilities will find a place to lay. You can have a modern home, but your kitchen has an old-fashioned kitchen cabinet design. It is not a requirement that if your home is modernized, your kitchen should be contemporary.
DIFFERENTIATING OLD FASHIONED CABINETS AND MODERN KITCHEN CABINETS
To tell the difference between these two choices, one thing you should look at is the cabinet knob. Round and circular knobs characterize traditional styles, unlike the long handle knobs, made precisely for modern cabinet style of production.
Kitchen cabinets with the same uniform height are considered old-fashioned.
Also, the color choice applied to the cabinets can reflect a modernly designed cabinet to assume an old-fashioned look. Example. Brown colored cabinets often look traditional and brightly colored cabinets assume a modern style appearance.
THREE QUALITIES OF THE RIGHT KITCHEN CABINET
ENDURING:
Either an old-fashioned style or a modernly designed cabinet, your kitchen cabinets need to give you up to 8 years of service before any renovation.
SIMPLE:
Simple cabinets in the kitchen efficiently work for household users and visitors. Accessing an item is made much faster and with ease.
TRANSPARENT AND SEE THROUGH:
For some of the cabinets, you need to look at the actual contents inside. Seamless cabinets with glass covering deliver the best results.
WHY SHOULD YOU CHOOSE A SPECIFIC DESIGN?
PROS AND CONS OF THE TYPE OF STYLE
If you have chosen the old-fashioned style of cabinets, you will save on the budget and complexity during installation. Most of these traditionally designed cabinets are simple, classy, and have got a wider variety of pattern. However, the old-fashioned style is not widely considered in most upcoming homes.
Modern designs give you an opportunity to add countertop options to not only improve the look in your kitchen but give you an adequate workspace in your kitchen. The modern design has got a much higher price tag attached.
PRICE
Before installation of any kitchen vanity, you should consider the budget at your disposal. For more extensive kitchen spaces, go for a much more straightforward design that will cost a fair amount. Smaller sized kitchens will be cheaper concerning cabinet installation.
What to consider:
COLOR PATTERN
The color of kitchen cabinets should match precisely the color choice of your walls and floor. For instance, White Kitchen cabinets go hand in hand to match any color choice you have used for the wall and floor.
However, white cabinets are exposed to dirt. It is often noticed that white cabinets are hard to maintain especially in the kitchen where there are lots of utensils and cookware.
A gray choice is highly recommended. Gray cabinets are noticeable inside your kitchen and are free from dirt appearance altogether.
NUMBER OF UTENSILS INTENDED TO BE KEPT
If you have a lot of cutlery collection in your home, a more superior cabinet choice is the way to go. Cabinets with many drawers and racks enable you to keep everything 'on the go' accessing your utensils is a much more comfortable task once they are arranged in an orderly manner.
SIZE OF THE KITCHEN
For most of our homes, the kitchen space varies greatly. A small kitchen will automatically hold smaller cabinets whereas larger kitchen spaces allow installation of multi-door cabinets and drawers.
LONGER LASTING EXPERIENCE
If you intend to avoid renovations and repairs in your kitchen, look for a quality made cabinet choice. An excellent example of a classy built cabinet is an Oak cabinet/Hardwood made. A Hardwood material gives you a longer lasting experience at the same time transforming the look in your kitchen tremendously.